Join our newsletter and get free hypnosis resources and exclusive discounts on our products.
We Respect Your Privacy
We never share your email.
Hypnosis & NLP Certification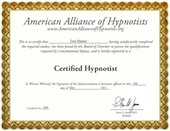 Do you want an impressive certificate for your wall and letters after your name? Dr Steve G Jones is offering Basic, Advanced, Master and Trainer certification courses in Hypnosis and NLP starting at just $47
1,150+ Ready-to-Read Hypnosis Scripts created by professional hypnotherapy trainers from Uncommon Knowledge.
Uncommon Hypnosis
The Uncommon Hypnosis course is available as an instant access online course or Home Study DVD set. It includes over 5 hours of hypnotic demonstrations with expert commentary.
The style is very Ericksonian, making ample use of subtle language patterns and metaphor. The main focus is self hypnosis and hypnotherapy.
---
Presense, Power & Profit
Success and happiness coach Mark Williams reveals ways that you can leverage psychological tricks to not only enhance your life but to sculpt the reality you truly desire.
I think that one of the most powerful and effective uses of hypnosis is to combine it with The Law of Attraction to help yourself, or somebody else create whatever reality you desire.
---
Win a Car
I decided to put hypnosis and The Law of Attraction to the test and hypnotised a person to win a car...
---
Attract Prosperity
The only reason you are not rich right now is because your subconscious mind contains false beliefs that are sabotaging your success?
Hypnosis can remove those false beliefs and align you with the prosperity and abundance you desire.